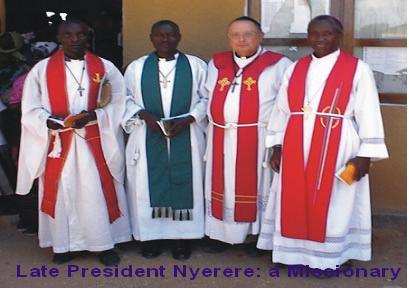 Julius Mwahimu Nyerere of Tanzania was exemplary   leader  from   Africa,  worthy of emulation by all and sundry. He was one of the  few   detribalized,  sincere,  and  godly leaders, African continent has ever produced.
He  had   a   humble  beginning.  He  was born in 1922,  and  went  through  missionary school. Later in life, he  became   a   school teacher. Nyerere had a Christian  upbringing: of  the  Catholic  denomination.  His  Christian life  as  a  political  leader was unique.  Julius achieved  a  lot  for   the   well   being   of  his countrymen  in  particular;  and   mankind   in general.
This   son    of   Africa    was   first   made President of Tanganyika. Years later, after the amalgamation  of  Tanganyika  and Zanzibar, to  be  Tanzania,   he   became  President  of Tanzania. He gave  equal  opportunities   to  Moslems and Christians  in  the  country,  in  matters of employment;   participation    in   national   or political affairs.
As  well,  he  preached religious tolerance in  his  country.  This  accounts for peace and tranquility  in Tanzania,  unlike  in  many African  countries:  where  religious and tribal conflicts, civil wars, were order of the day. He  wasn't a tribal leader.
During his lifetime, he strongly admonished  religious  leaders  to  live exemplary lives; preach  true  repentance  to  their   members. For  everyone will give account of his life and stewardship to God. He  adjoined rich  nations  in  the  United Nations  to  be  sincere  in  helping  poor countries to fight hunger and starvation. They should  help  the  down  trodden  masses. He also campaigned  for  cancellation  of foreign debts,  of  poor countries. His consistent appeal yielded some results.
He   voluntarily   relinquished   power  in 1985.  Even in retirement, he was appointed  peacemaker to some troubled countries:  like : Burundi and Congo  DR.  He  observed  the main  causes  of   civil  conflicts  were: corruption,   greed  for  power,  and  tribalism.
Nyerere  was  well versed in his knowledge of the bible; a good witness of the faith, and a missionary. He translated some scriptures of the bible into Zanaki, his native language. He wrote  poetry  and  spiritual  songs inspired by the Gospel of Matthew,  Mark, Luke, John, and Acts of the Apostle.
Mwahimu   refused   to  accept  titles.  He wanted to be addressed simply as a teacher. He  lived   a  simple    lifestyle.   Of   course,  he  endeared   himself    to    his   people  as down-to-earth  man;   very   accessible   and caring. Catholic  Diocese  of  Musoma  opened a cause  for  Nyerere's  beatification.  Tanzania Catholic  eagerly  awaited  the  Vatican's final decision  on    the    canonization    of   Julius Nyerere.
He  predicted  his death, and promised to pray  for  the  people  of Tanzania. He said, "I know  that   I   shall   not   recover  from   this sickness.  I   am   not   happy   to   leave   my Tanzanians. I know that they will mourn very much.  But   I   shall   pray   for   them  before God. Eventually,  he  died  in  1999,  and was buried in "God's Graveyard." His death  was  a  sad  moment   for  his successor, Benjamin Mkapa and his  cabinet. Of course, the  entire  world  felt  his  demise. He  left   behind   legacy of:  political   unity, economic   stability,  and  religious  tolerance.

And  the  people  mourned  his departure from the world, like the mourning of the death of King Josiah  of Judah– the righteous man. He  served God and humanity. Nobody   ever   accused   him   of siphoning   the   country's   money   abroad, unlike many  dictators  and looters in power.  He had no foreign account.
He   was   never   arrested   or   tried   for  corruption  or  misconduct.